1. Introduction
I first went to Majorca in 2009 and I had no idea at the time what I was getting into. Since then I've made over 30 trips and it's been some time now since the best days on the bike there exceed the best days on the ski slopes.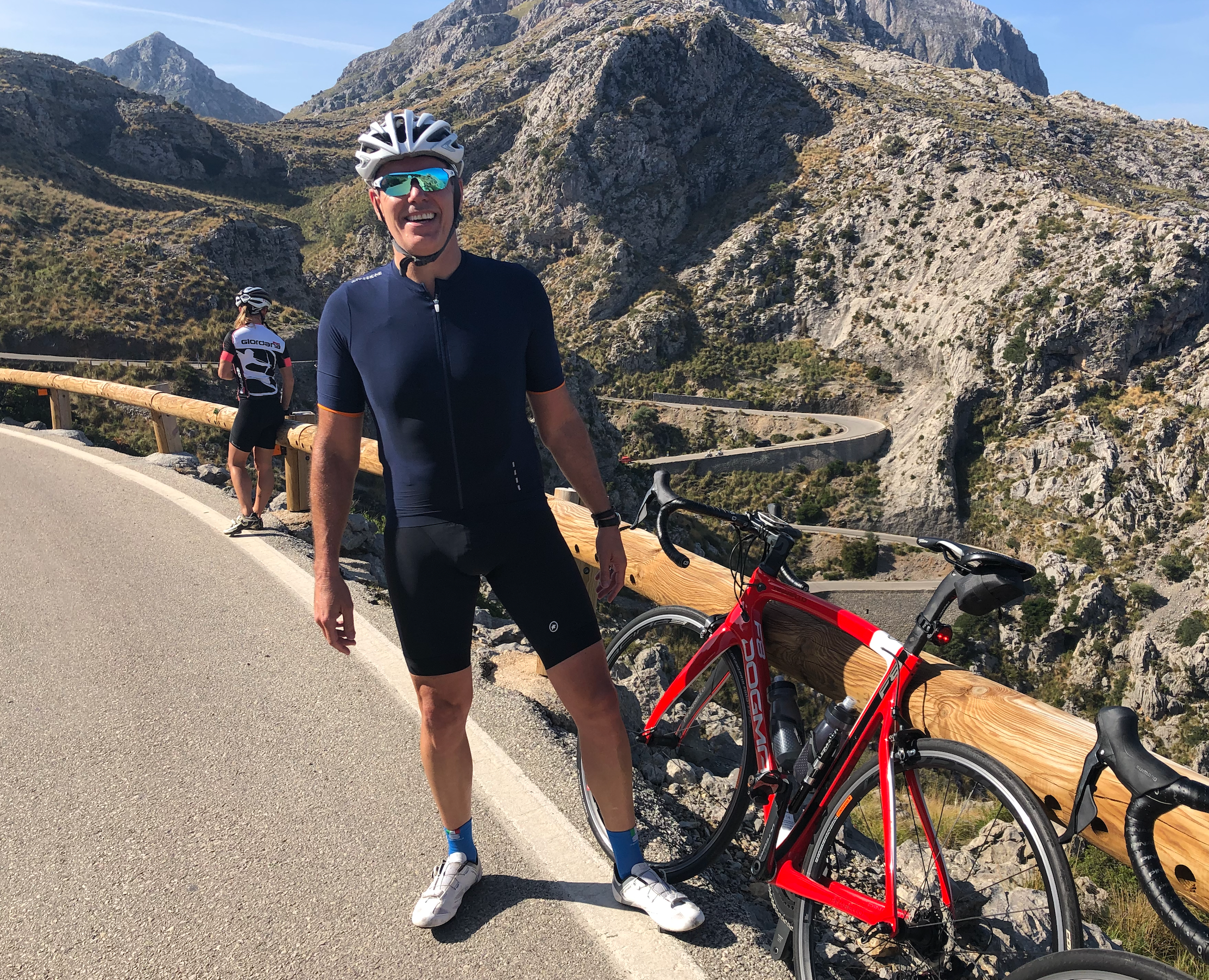 Despite the rise in popularity of cycling in the intervening years and, commensurately, in cycling tourism to the island you can still find yourself riding for kilometre after kilometre, enjoying stunning scenery, under infinite blue skies and glorious sunshine without seeing another soul. Heaven.
2. Why Majorca?
There's no doubt that all of the trips that I have taken have come at an opportunity cost of not trying all that much else. Or even different bits of the island. But I have a simple philosophy : if something works, do more of it.
2.1 Karma
My levels of cycling fitness these days vary around a pretty lame mean, but even in the days where I trained almost every day my riding in Majorca has always been primarily for enjoyment. This is supported on the island in three ways.
I have experienced literally zero aggression from drivers in my entire time of riding there. A lot of the riding is off the beaten track anyway, but the local drivers are consistently amenable and considerate.
Not surprisingly, given the exquisiteness of the riding experience, other cyclists are generally in rather fine spirits so there are lots of waves and nods going on. Especially on the climbs you'll see others with 'you've gotta be kidding me' smiles on their faces.
Finally cycling is great for a lot of the businesses on the island and this warmth is consistently reflected back.
2.2 Terrain
Enable the terrain layer in Google Maps and behold.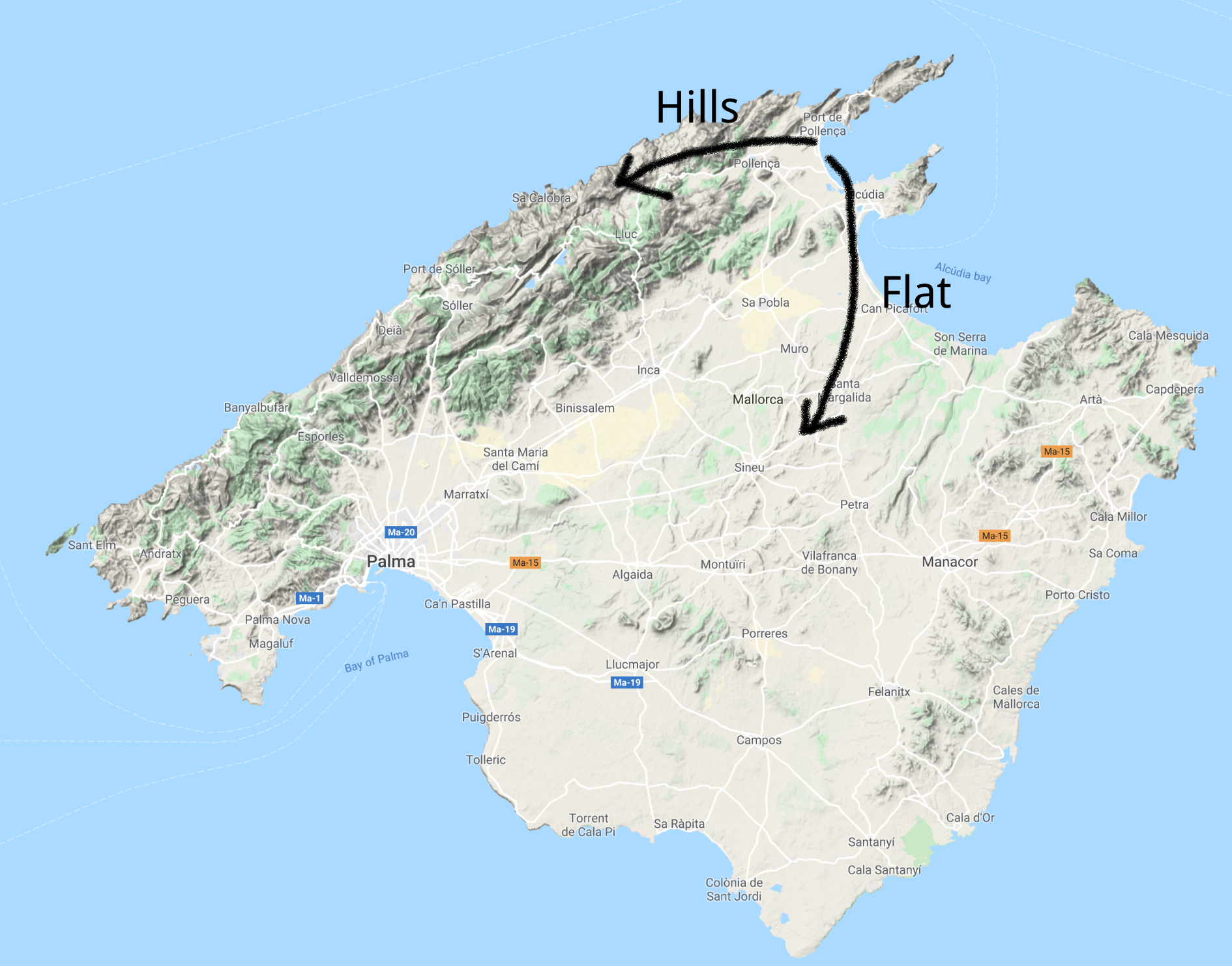 Stay to the North and you have a beautiful, undulating mountain range. Head inland and you have beautiful rolling countryside with the mountains an ever-present backdrop.
2.3 Infrastructure
No doubt there's a positive feedback loop; more cyclists leads to better infrastructure, which leads to more cyclists. And so on.
The businesses in the north east of the island are very cycling-friendly. A lot of the hotels have specific facilities (bike garages, tools, etc) and the restaurants and cafes have bike racks and are used to accommodating folk in their 'cycling underpants' as I like to call the attire.
The bike hire is fantastic; I have used ProCycleHire a lot and they are the original and best shop and are part of the fabric of my holiday. However, for weekends I mostly indulge in a top of the range bike from Pinarello Experience.
2.4 Roads
Pretty important I guess, but something I take for granted these days. The road surfaces are mostly great and under continual investment. The busier roads that are commonly used by cyclists have wide cycle-friendly lanes. Further, I've had one puncture in my whole time of riding there accumulating over 10,000km of riding. I'm a big fellow so I'm no stranger to this aggravation riding in the UK.
2.5 No space for ego
No matter how good you think you are, you're actually shit. Reckon you're a bit better than your club mates, do a bit of racing or do well in the odd sportive, perhaps somewhere on the leaderboard for some local Strava segments? Time for a dose of reality. Do a half-decent job of one of the main climbs and go check Strava - actually I can save you time, you're not even in the top 1000. There is a flipside : you can just ride and enjoy riding for riding's sake.
3. Where to stay
Fairly simple; Puerto Pollenca up in the north east of the island. It's beautiful, by the sea, with great local infrastructure (bike hire, shops, restaurants, and accommodation).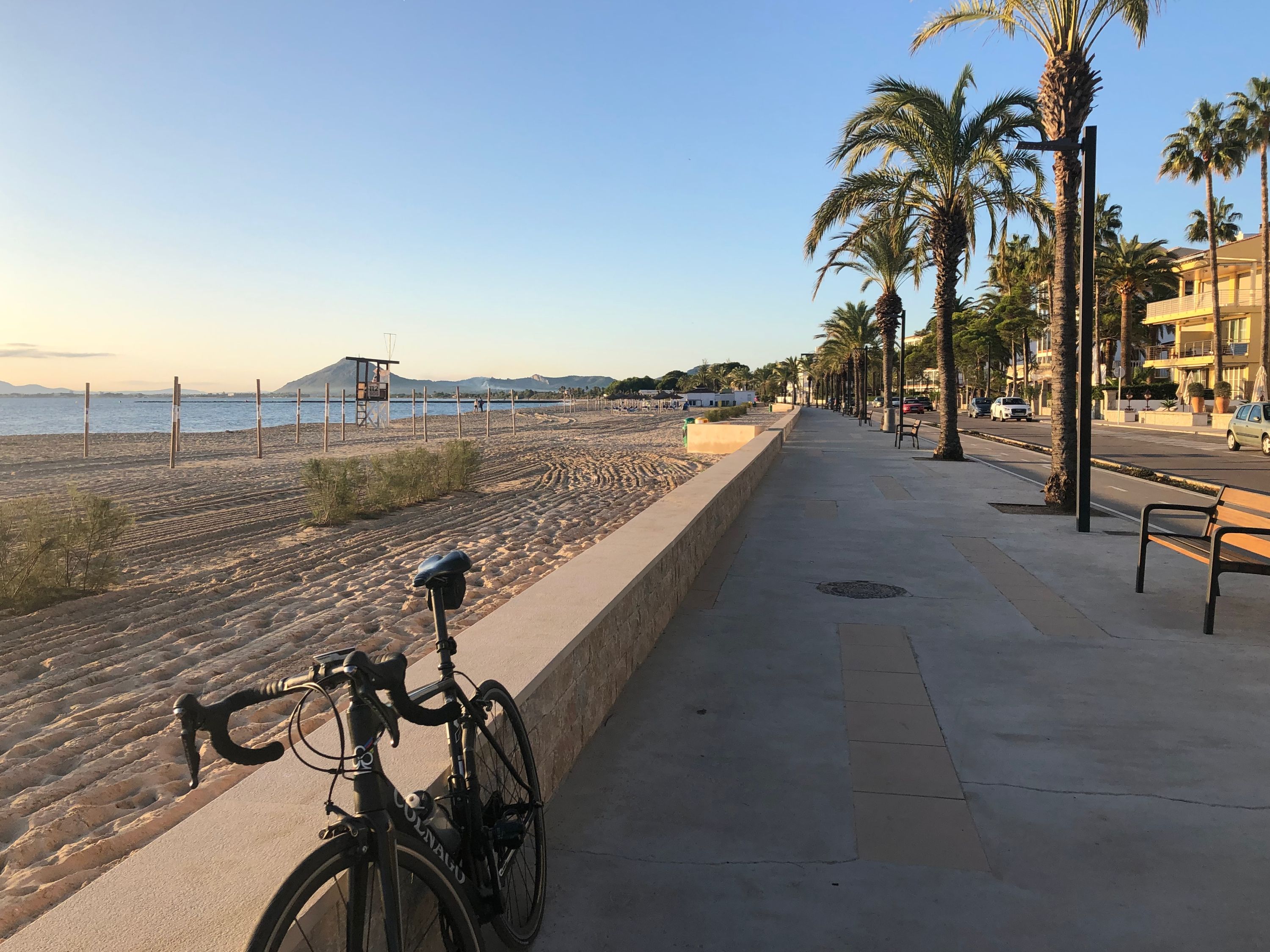 I've stayed in the Hotel Uyal, Hotel Daina and Hotel Illa D'or which are all good enough hotels. Unfortunately regulation changes mean there are far fewer apartments available on AirBNB right now but it's still worth a shot and, if you're going with your family then there are loads of great villas in the area and you could do a lot worse than Prestige Villas.
4. When to go
Pretty much any time if you get the chance; though for the best cycling experience probably not January or February and not in the summer. There is a trade-off; the very best days of the year - just north of 20 degrees and beautiful clear skies - are at times of year where wall-to-wall sunshine is not guaranteed. If you head for Puerto Pollenca there are hotels and restaurants open all year round, but the character is very different out of season.
March and April is when it all properly kicks off for the cycling season. The weather can be a bit variable and it's not a great time to go with non-cyclists. There are plenty of restaurants open but it's primarily an outdoorsy place and it's a bit chilly in the evenings to sit outside for dinner. Probably avoid the Majorca 312 sportive weekend - unless you're doing it of course :-).
May to mid-June is my second-favourite time of the year. May half term is spot on. The weather almost guaranteed to be decent, no need for arm warmers first thing in the morning and long days so you can get out early in the morning, get a highly decent ride in and be back in time for a splendid lunch.
Mid-June to Mid-September are probably best avoided. It's too hot, too expensive, too crowded - get yourself up to the Alps or something instead.
Mid-September - end October and now we're properly back in the game. My favourite time of the year, especially the half-term in October. There's an end-of-season feel to the place, with just a touch of melancholy and, on the days when the weather is good you can experience genuine cycling nirvana. By the end of October the days are shorter and it's dark until about 08:00, and you'll want arm warmers for the first hour or so.
November - February I can only speculate. I imagine November might be a terrific time to go with a last minute booking on the basis of a reliable, positive weather forecast. You can still hire bikes, get accommodation and find somewhere to eat.
5. A few highlights
In no particular order there are a few places that feature regularly on my itinerary and some multiple times on a single trip.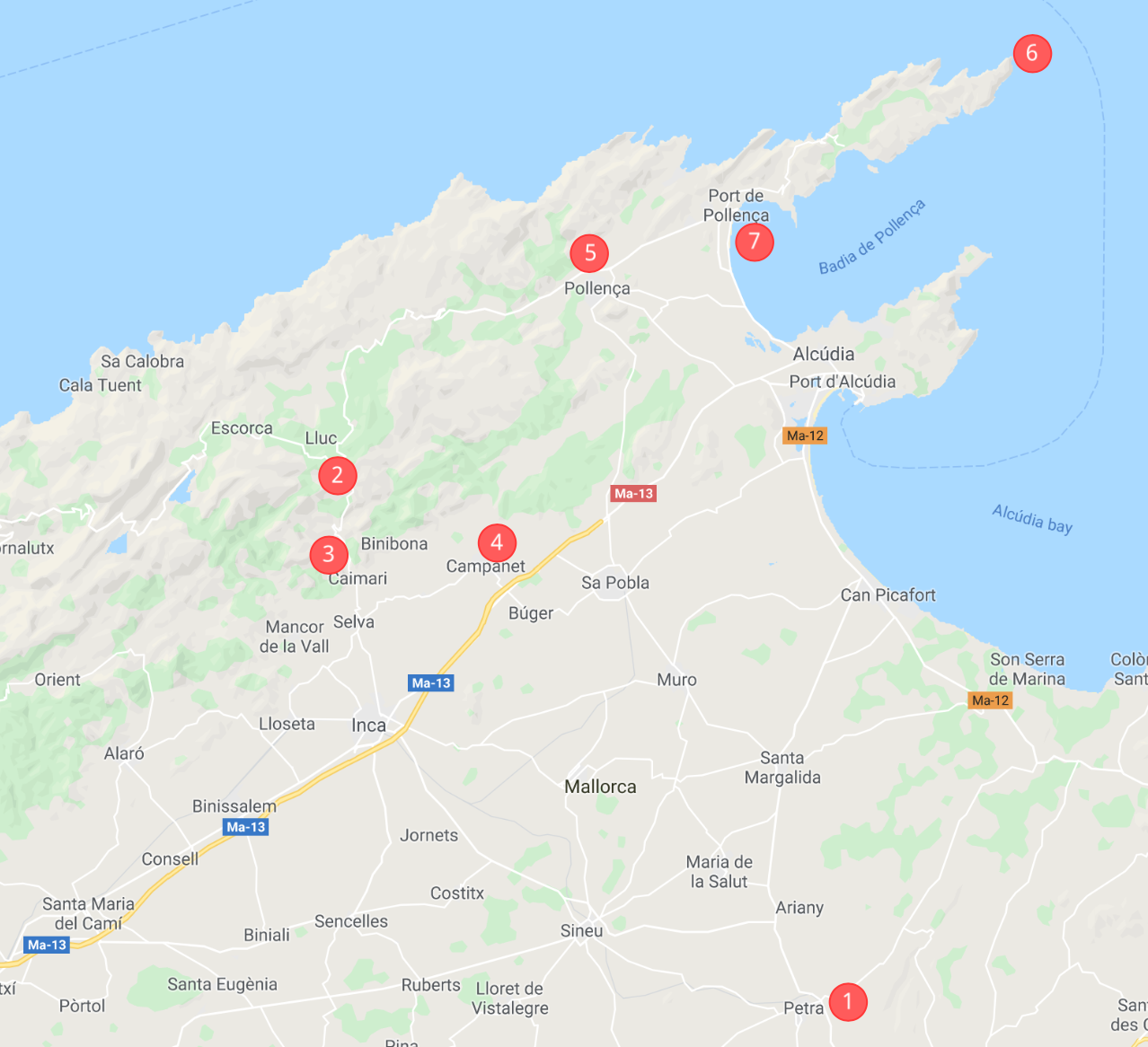 Petra - lovely little town inland and perfectly placed for a 3 to 4 hour ride of flat and rolling terrain with two or three cafes to choose from. You can also head up to the monastery afterwards for a nice punchy climb and terrific views.
Cafe at the top of Col de sa Batalla - I've actually never warmed to the service here or the quality of the fare, but it's well-placed for a stop after the ascent leading up to it and it's sort of famous.
Sa Ruta Verda cafe in Caimari - a lovely little cafe at the foot of the Batalla climb, run by cyclists for cyclists. Relatively new to the island I think; it's relatively new for me anyway and fast-becoming an essential part of the pilgrimage.
Campanet - another small town with a lively square for the locals with cafe's where you can get a decent cup of coffee.
Can Moixet at Pollenca (Old town) - excellent coffee at a

'

traditional' cafe that is popular with the locals. Worth a stop.
Cap de Formentor - a local attraction at the very north eastern tip of the island. Worth a cycle out there but definitely head out early in the morning to beat the traffic. It's a short, choppy old route with stunning views along the way.
Sea.bar.is - is the correct place to stop at the end of the ride for a coffee or something stronger if you are so deserving.
6. Eating out in Puerto Pollenca
I won't claim any particular expertise - and you can probably do better by looking at what TripAdvisor has to say.
 I must have been to Stay over a hundred times and it would qualify as one of the premium restaurants in the resort. The food is good and the views amazing.
Liberty Kitchen is a recent addition to my itinerary. It's a 'British' restaurant, with a 'British' menu run by a British couple (that aren't a couple apparently - they're the Torvill and Dean of the Puerto Pollenca restaurant scence). But don't be put off by that; the food is excellent and the service wonderful.
Onza (Pollenca) is in the old town. A slightly challenging menu but the food is excellent.
Tolos is an odd place. Bradley Wiggins had some affiliation with it at some point and one of his old bikes is in the restaurant. The food is decent but the service is so unfriendly as potentially to be intentional and ironic. Who knows.
7. Routes
Here's just a few of the routes that I do on a regular (or semi-regular) basis.
Femenia / Batalla Loop I do this the most. In both clockwise and anti-clockwise directions the riding is exquisite.
Petra Nice flat riding with an optional trip up to the monastery close-by.
Porto Cristo Longer day out with a nice resort on the coast at around the mid-point.
Sa Calobra Nice hard day of climbing. Sa Calobra is a 10km climb in its own right and a ride that should be on every cyclist's palmares.