Inspired by good friend Lawrence Hunt, and guided by this recipe, I've created my own, highly unpalatable version that's relatively quick and easy to make and has all of the goodness.
1. Why Turmeric?
According to examine.com, there's some pretty decent evidence that curcumin, found in turmeric, has beneficial effects on
None of us are getting any younger, aches and pains become the norm as does being a bit of a miserable old git.
2. Getting ready…
Anyway, what you'll need is
Ingredients

Turmeric (about 150g)
Ginger (about 120g)
2 lemons
2 tablespoons of black peppercorns

Kit

Blender
Pestle and mortar
Jar for storage
Gloves
Spoon for peeling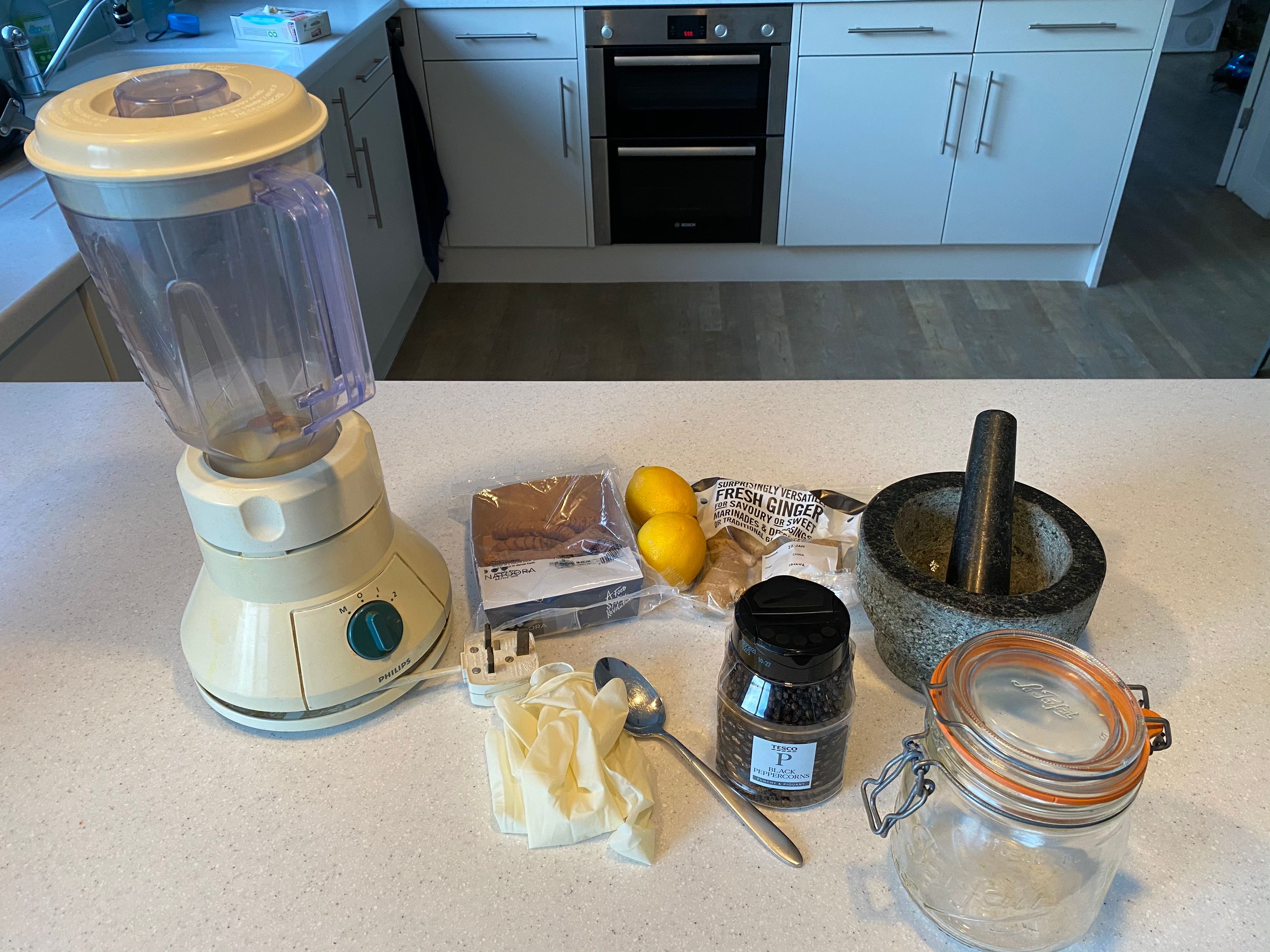 Our blender is from the 1970s as you can see, but I'm sure a 21st century device will work equally well.
Don't even think about skimping on the gloves. Turmeric is evil. Everything within 3 metres of the preparation area will be stained yellow. Your hands, work surface, clothes, utensils. Everything. The half life is about 24-36 hours.
3. Instructions
Pop the peppercorns into the pestle and morter and give them a good grind
Get an old chopping board, perhaps with some cardboard underneath to protect the work surface
Put on your gloves
Peel the turmeric with a spoon and snap into roughly 1cm pieces and chuck them in the blender
Likewise the ginger
Chop the lemons in half and squeeze them into the blender
Add the crushed peppercorns
Blend until you've made a nice slurry
Sometimes the lemon juice is enough to achieve this but if not I add a little water to loosen up the mixture
Pour /scrape the mixture into the jar
You can store in the fridge for 7-10 day
4. Consumption
I have 3-4 teaspoons a day. It's not very nice, and you definitely wouldn't eat it for fun. It will stain your teeth yellow for a bit too - try not to smile for a while.
But, hey, who's to say that living forever was meant to be easy?